November 29, 2010 at 9:48 am , by Chelsea Rae Simmons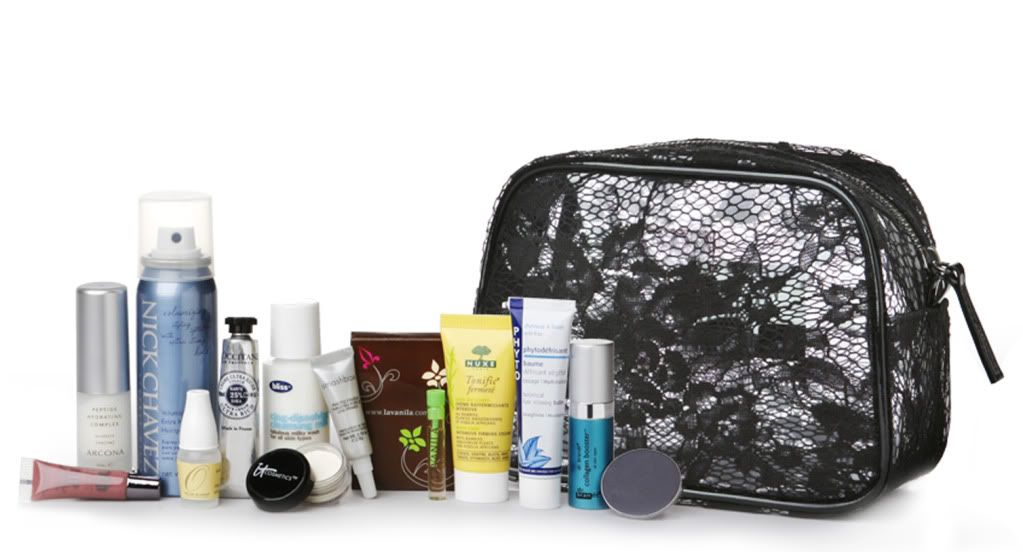 Charlotte Ronson 'Lolita' makeup bag
You've survived the crazed crowds on Black Friday, but you still can't find that perfect gift for the beauty-lovers in your life. Don't fret; I've searched high and low for the top 12 websites to find beauty swag from the comfort of your desk:
Which websites are you visiting today?
---
November 15, 2010 at 11:33 am , by Chelsea Rae Simmons
What better reason to add a sun-kissed glow than dreary fall weather? But when it comes to using bronzer during the colder months, women (myself included) often find themselves, compact in hand, dumbfounded. Here are three tips to applying bronzer during any season:
Know your face shape. The shape of your face will determine the application technique you use. Joanna Schlip, makeup artist for Physicians Formula, suggests slimming a round face by adding matte bronzer diagonally across the cheekbone to contour and create shadows. Shorten a long, oval face by sweeping bronzer across the top of your forehead and on your chin.
Natural is key. You want to look like you just spent a weekend in Aruba, not a tanning bed.  Apply bronzer only to the areas that would normally become sun-kissed while at the beach: cheekbones, the bridge of your nose, and tip of your chin. To create a natural, streak-free finish, "Blend, blend, blend!" says Schlip.
Pick the right kind of bronzer. You should always choose the right type of bronzer for the look you want to achieve. For contouring, you'll need a matte powder. "Only use shimmery bronzer for highlighting and make sure it's one shade lighter." For easy application use a blush/bronzer combo. (Try Physicians Formula Organic Wear 2-in-1 Bronzer & Blush, $14 or Neutrogena Healthy Skin Custom Glow Blush & Bronzer, $9.50)
It's time to get your glow on, ladies.
---
November 1, 2010 at 9:30 am , by Chelsea Rae Simmons
I used to dream of having a long, flowing mane, but fate had other plans. I've learned to accept and adore my above the shoulder locks, and now celebs like Ginnifer Goodwin and Keira Knightley are embracing a short-stranded look, too. Here are my top three short-hairstyle tips:
The right cut matters. Whether you want a shoulder grazing bob or a dramatic pixie, your cut should be tailored to your face shape and features. "The pixie cut is great because it's a classic cut that can be tweaked and styled according to your mood, your outfit, or your personality," says Nicholas Penna, Jr., owner/lead stylist of SalonCapri.
Shine is key. With less hair to distract the eye, it's important to make sure your strands look as healthy as possible. Penna suggests using thermal protection products when styling and finishing with a spritz or two of shine spray (try: Pantene Heat Protection & Shine Spray).
Accessorize, accessorize, accessorize! No matter the length, hair accessories can emphasize your entire look.  Go ahead, show off your new pixie cut with a jeweled headband, add some glamour to your bob with sparkly hairpins, or use a pretty clip for a simple updo.
How do you ensure your short hairstyle is the talk of the town, or at least the office?
---
October 22, 2010 at 1:06 pm , by Chelsea Rae Simmons
Happy Genes Day, lovely ladies! It's Chelsea, your resident fashion and beauty intern, letting you know today is a great day to look your best and Do Good. Lancôme has dubbed today Genes Day and, in honor of the celebration, will be giving $7 from every bottle of their much-lauded Génifique Youth Activating Concentrate sold today to St. Jude Children's Research Hospital in Memphis, TN.
It may be a beauty splurge at $78 for a 1oz. bottle, but if it'll give me glowy, even skin in only seven days or even make me look a quarter as gorgeous as celeb devotees like Christina Hendrix, Julia Roberts or Veronica Webb, it's worth it.
And did I mention that part of the sales (up to $100,000) go to St. Jude Children's Research Hospital? If you get a chance, visit your local Lancôme counter or lancome-usa.com for your chance to improve your skin and the lives of children in need.
P.S. If you're new to the Génefique line and happen to find yourself at a Lancôme counter today, ask for a deluxe seven-day sample free of charge.
---
June 15, 2010 at 3:48 pm , by Chelsea Rae Simmons
Hi ladies, I'm Chelsea, the new fashion and beauty intern at LHJ, and I'm here to give you the scoop on a cool new jewelry DIY tool.
Love Heals launched its custom Design Studio so would-be designers like me (seriously, it's crazy how much I spend on beads and chains), can design the perfect piece of jewelry without actually having to make it.
You can choose from a selection of charms, pendants and strands to create anything from a simple cord necklace (like this pretty number I made, at right) to a pair of lavish pearl chandelier earrings. After you submit and purchase your design, your jewelry is handcrafted by their California-based artisan team and sent to you in two weeks. The Design Studio is easy to navigate and use and it's not too expensive: A custom piece of jewelry can cost you less than $100—my necklace clocks in at $90.
Another good reason to shop: Love Heals is committed to doing good. They use ethically-sourced materials for their jewelry and have planted more than 432,000 trees with GreenerEthiopia.org. And if that wasn't great enough, here's another huge shopping bonus: If you design a custom piece, you can buy it for 40 percent off with the promo code DESIGN40! Enter the code, which is good until June 30, at checkout.
---