December 15, 2010 at 2:43 pm , by Catherine LeFebvre
It's getting down to the wire for holiday shopping (only 10 shopping days left 'til Christmas!), so this week we turned to Merrier Shopping's June Pfaff Daley for some expert gift-giving advice. She tackled one of the trickier items on most everyone's list: the family who already has everything.
A few weeks ago, the following reader e-mail came my way:
"Ok, I need help! My kids have it all (I am not bragging.) I want to give them time together as a family. I have 3 daughters with 3 children each and a husband. I would like to put together a package of things to do together. (movie tickets, events, etc. ) not a lot of money, but maybe  $100 per family. Any ideas?
Thank you, Sally"
I thought this was a great question. After all, many of us are in the same boat, wondering what to buy a family on our list that already has pretty much everything. I admire Sally for wanting to give them time together as a family. What better gift? Here are several ideas to assemble the perfect family gift:
Family Night Out
One of our favorite family date nights is dinner out and a trip to the bookstore. You could gift a similar evening by purchasing a gift certificate to a local pizza parlor along with a gift certificate to a bookstore. Package the certificates with a classic book like Curious George and the Pizza or More Spaghetti, I Say! to tie the two together. After pizza, the family could go to the book store where every family member gets to pick a book.
Movie Night In
Purchase several classic family-friendly DVDs like The Sound of Music, Annie and The Wizard of Oz. Include a popcorn making machine such as the West Bend Stir Crazy (we love ours!) or the Presto Hot Air Popper. Include popcorn kernels along with movie-size boxed candies. You could also include cups with lids so drinks can be enjoyed with no spills on the family carpet.
---
November 29, 2010 at 9:48 am , by Chelsea Rae Simmons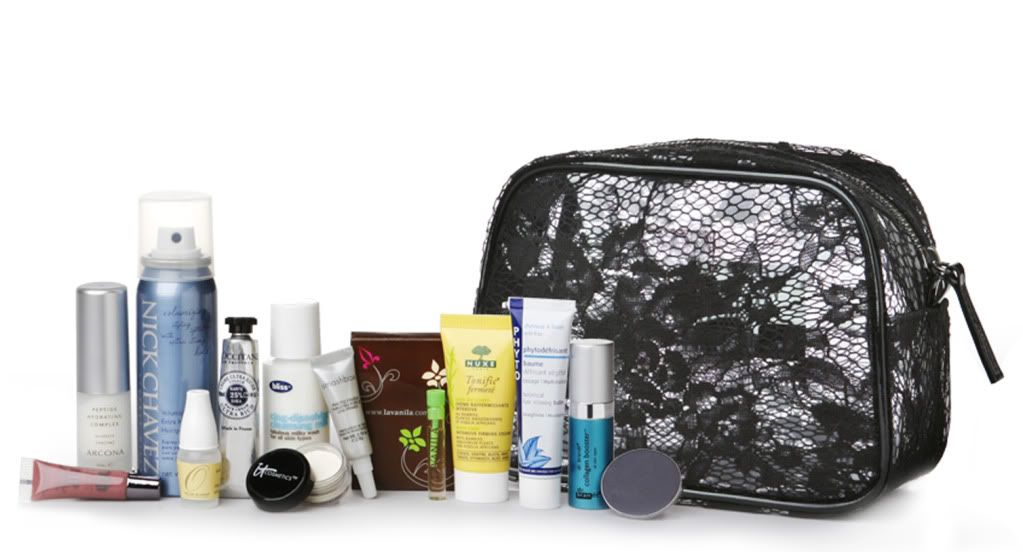 Charlotte Ronson 'Lolita' makeup bag
You've survived the crazed crowds on Black Friday, but you still can't find that perfect gift for the beauty-lovers in your life. Don't fret; I've searched high and low for the top 12 websites to find beauty swag from the comfort of your desk:
Which websites are you visiting today?
---
November 19, 2010 at 9:21 am , by Sonia Harmon
Okay, I'll admit it: I'm a gleek. Never heard of a "gleek" before? That's the nickname Glee followers have adopted since the hit musical-comedy about a high school show choir exploded onto the television scene last year. Glee has had a myriad of guest stars (from Olivia Newton John to Josh Groban), the cast sold out a 13-date live tour this past summer, and over 17 million songs from the show have been digitally downloaded (one recent hit was the cast's rendition of Katy Perry's "Teenage Dream," which I urge you to check out for yourself here). Needless to say, the show has quite a following with kids and adults alike, and you've probably got a Glee fan or two on your holiday gift shopping list (or maybe you're a gleek yourself!). Luckily, several Glee-themed items recently hit stores and make great holiday gifts.
Karaoke Revolution: Glee for Wii, $58
Gleeks can now sing their favorite Glee songs at home karaoke-style! A microphone comes with the game, and you can test your singing ability as video montages with exclusive content from the show run in the background.
Glee Season One Gift Set with collectible journal, $40
As if the first season of Glee on DVD with over two hours of bonus footage isn't cool enough, this gift set comes with a special Glee journal that kids will love.
Glee: The Music, The Christmas Album, $10
Whether you're a gleek or not, you'll enjoy listening to the cast's renditions of holiday classics including "Deck the Rooftop" and "Baby, It's Cold Outside."
Now tell us, are you or is someone you know a big fan of Glee? Will you buy any Glee gifts this year?
---
December 10, 2009 at 1:45 pm , by Erica Metzger
Yikes, it's two weeks until Christmas! The window for finding the perfect gift is getting smaller and smaller. I'm way behind on my list, but I have a plan of action:  sleep in on Saturday, make a big cup of coffee and then shop in my pj's. As usual, I will be giving the gift of beauty to my loved ones. (In my experience, you can never go wrong with a gorgeous palette or a pretty candle). I covered a few of my favorite beauty websites in a previous post, but I realize I left out some good ones, so here goes!
Best for a Budget: I love Bath and Body Works'  great fragrances, especially the Twilight Woods scent. The quality and packaging is on par with expensive department fragrances. When it comes to makeup, I'm toying with Victoria's Secret for a fun lip gloss set or a dazzling eye palette.
Best for Impressing: These boutique brands are a bit pricier, but they never fail to wow.
L'Occitane.com's fragrance offerings and shea butter formulas are amazing. These hand creams are the perfect hostess, teacher, neighbor, etc gift. Or  keep one for yourself and give the other two as stocking stuffers.
I have lots of favorites from Fresh.com (the Soy Face line is to die for), but I would highly recommend this gorgeously wrapped soap or a luxe candle.
Spoiler alert! The dudes nearest and dearest to my heart will most definitely get something in their stockings from Kiehls.com.
Best for Nervous Nellies: If you tend to experience first-time jitters when ordering something from a new site, then stick to sites where you already shop and trust. As a founding member and president of Nervous Nellies Anoynomous (oops, the cat's out of the bag), I was thrilled to find out that my favorite websites Amazon.com and Zappos.com also carry a great selection of boutique beauty brands.
Check out our holiday gift guide for more easy shopping ideas and happy holidays, ladies!
Photo by Risager
---